I can't believe it's already December. It feels more like Spring in Bend, Oregon. We have no snow on our mountains, our local ski resort continues to be closed, and there isn't any snow forecasted for atleast a week.
We have reduced the Amanda Jane pleaters. Is your shop stocked-up for all those last minute husbands, boyfriends, or sons?
One of my favorite memories from my childhood is making Holiday cookies with my grandmother. I remember vividly standing on the orange paisley kitchen chair, hand-stirring the mix and forming the perfect little balls of cookie dough. Grandma didn't use a mixer back in the 70's...she didn't have a dishwasher either (but that's an entirely different childhood story). On Monday she was making cookies with Blain, her great-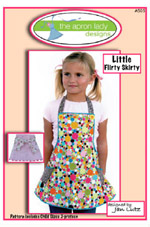 grandson. My memories were vividly coming back to life and it gave me a thought. Every great-grandchild, grandchild, or child needs an
apron
to wear when making cookies. We have many different aprons and they are all adorable. We also carry coordinating
mother-child
patterns. If you are looking for adult aprons. We now carry
Nellie's Needles
.